TYPE 3 - HIGH INTENSITY REFLECTIVE (GLASS BEAD TYPE)
1" 2" 4" 6" and 8"
TYPE 3 - FLEXIBLE HIGH INTENSITY (GLASS BEAD TYPE)
1" 2" 4" 6"
TYPE 4 - HIGH INTENSITY REFLECTIVE (PRISMATIC TYPE)
1", 2", 4", 6", and 8"
REFLEXITE V92 PRISMATIC REFLECTIVE TAPE
1" 2" 3" 4" 6"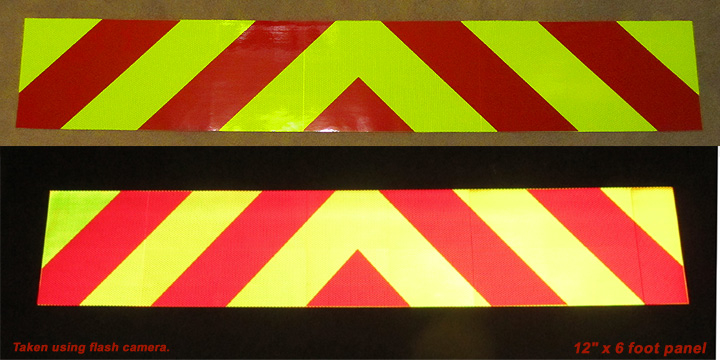 Our Pre-Striped Reflective Chevron Panels are easy to install and satisfy the NFPA 1901 requirements for Chevron Stripes on Emergency Vehicles. The panels on this page are intended to go on truck tail gates but can be trimmed or cut into narrower strips for applications on other areas. The panels are Fluorescent Lime and Red and are based on Reflexite Reflective Prismatic Films which are the best in the industry. Prismatic films are the brightest of all the reflective tapes available and far exceed NFPA standards. The panels are easy to install using either a hinge method or soapy water application method.

Both the lime and red portions of the panel are highly reflective. There is a peel off backing which exposes the adhesive. One person can install the chevron but it is helpful to have a second person. The panel is very easy to trim with scissors or an exacto and can be modified to go around obstructions.
---
---
If you wish to order with a check or money order you can send payment along with a description of what you are ordering to

Reflective Inc.
1610 Guam Lane
Gulf Breeze, Fl 32563

---
FOR CUSTOM ORDERS PLEASE CONTACT ME BY e-mail OR CALL STEVE COLE AT
850-934-3157 AND I CAN QUOTE ANYTHING YOU NEED.
---