TYPE 3 - HIGH INTENSITY REFLECTIVE (GLASS BEAD TYPE)
1" 2" 4" 6" and 8"
TYPE 3 - FLEXIBLE HIGH INTENSITY (GLASS BEAD TYPE)
1" 2" 4" 6"
TYPE 4 - HIGH INTENSITY REFLECTIVE (PRISMATIC TYPE)
1", 2", 4", 6", and 8"
REFLEXITE V92 PRISMATIC REFLECTIVE TAPE
1" 2" 3" 4" 6"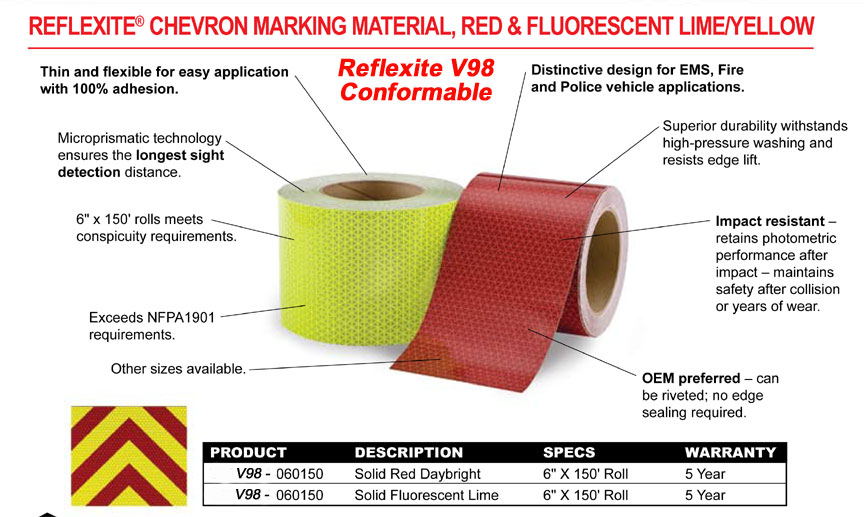 More pictures and video at bottom of page.
On this page we carry Reflexite V98 Conformable Prismatic Chevron Striping Tape. This is the sister material to our V92/V97 Red and Lime Yellow Reflexite Tape. It is identical in look and reflectivity, however, the V98 is "conformable" and "repositionable" making it excellent for applications where the material needs to conform to a surface.

On this page we carry 6" rolls of the V98 Conformable Prismatic Reflective Tape. We carry the 6" wide tape in both 30' and 150' rolls. We also sell this product "BY THE FOOT". Our V98 Prismatic tape is manufactured by Orafol (Reflexite). It is superior to other tapes due to its extreme durability and brightness. It also can be seen at sharper angles than engineer or high intensity tapes.

The 6" material is for the downward slanting 45 degree chevrons. The stripes must alternate from red to yellow. Covering 50% of the rear of a fire truck satisfies the NFPA 1901 recommendations.

The V98 conformable grade carries a 5 year outdoor rating. This tape and the V92/97 are our most popular chevron materials.
We carry the following V98 conformable prismatic chevron striping. For other types click on the links to the left.
Solid Fluorescent Yellow or Red 6" x 150' Reflective Rolls - $419.99 per roll
Solid Fluorescent Yellow or Red 6" x 30' Reflective Rolls - $119.99 per roll
---
---
---
If you wish to order with a check or money order you can send payment along with a description of what you are ordering to

Reflective Inc.
1610 Guam Lane
Gulf Breeze, Fl 32563

---
FOR CUSTOM ORDERS PLEASE CONTACT ME BY E-MAIL OR CALL STEVE COLE AT
850-934-3157 AND I CAN QUOTE ANYTHING YOU NEED.
---

We have tested this material on diamond treadplate with good results. (See picture below) We do not guarantee that you will have the same results. If you plan to use the material for diamond plate we can mail a sample to you. Just click above on our email link and ask for a V98 sample.