TYPE 3 - HIGH INTENSITY REFLECTIVE (GLASS BEAD TYPE)
1" 2" 4" 6" and 8"
TYPE 3 - FLEXIBLE HIGH INTENSITY (GLASS BEAD TYPE)
1" 2" 4" 6"
TYPE 4 - HIGH INTENSITY REFLECTIVE (PRISMATIC TYPE)
1", 2", 4", 6", and 8"
REFLEXITE V92 PRISMATIC REFLECTIVE TAPE
1" 2" 3" 4" 6"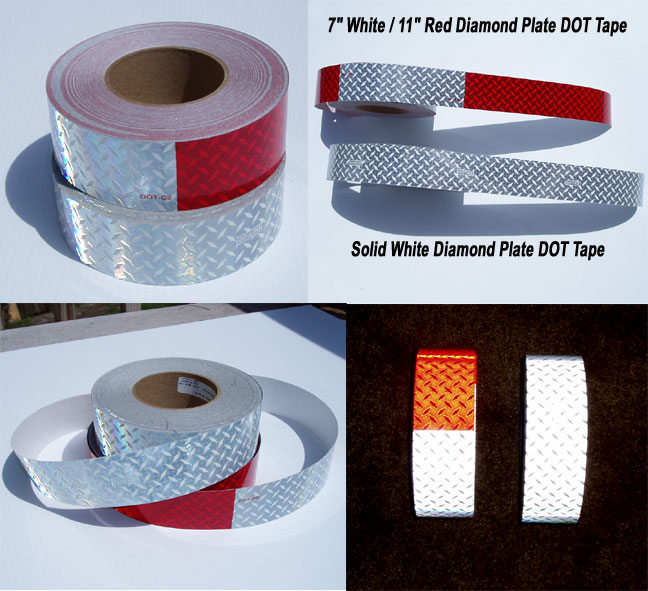 More photos at bottom of page.
United States and Canadian DOT regulations require that tractor trailers exceeding 10,000 lbs. GVWR have alternating red and white DOT approved 2" wide reflective conspicuity tape applied along at least 50% of their lengths (can be segmented) and entirely across their back ends. Solid Silver/White conspicuity tape is required to mark the upper rear corners of trailers by the placement of two 2" x 12" segments together to form an inverted "L" in each corner. Our "Diamond Pattern" - 7" White / 11" Red Alternating conspicuity tape exceeds all federal and state DOT requirements. It is a bright prismatic tape with a reflectivity rating of around 500 candlepower. It is easy to handle, flexible enough to go around corners, and resists chipping and cracking. For more information on DOT requirements you can click on the link to the left hand side of this page and you will be taken to our DOT regulations page which has a poster of the required markings for the different types of trailers.

On this page you can purchase 2" x 150 rolls of the popular 7" white/11" red diamond pattern DOT tape as well as diamond pattern solid white rolls.
For other sizes and types go to our main DOT tape menu by CLICKING HERE.
---
On this page we carry the following REFLEXITE V52 tapes for trailers and other applications.

Diamond / Treadplate Pattern Alternating 7" white / 11" red rolls in 2" Widths.
Solid white/silver Diamond / Treadplate Pattern rolls in 2" Widths.
---

---
---
If you wish to order with a check or money order you can send payment along with a description of what you are ordering to

Reflective Inc.
1610 Guam Lane
Gulf Breeze, Fl 32563

---
FOR CUSTOM ORDERS PLEASE CONTACT ME BY
e-mail
OR CALL STEVE COLE AT
850-934-3157 AND I CAN QUOTE ANYTHING YOU NEED.
---