TYPE 3 - HIGH INTENSITY REFLECTIVE (GLASS BEAD TYPE)
1" 2" 4" 6" and 8"
TYPE 3 - FLEXIBLE HIGH INTENSITY (GLASS BEAD TYPE)
1" 2" 4" 6"
TYPE 4 - HIGH INTENSITY REFLECTIVE (PRISMATIC TYPE)
1", 2", 4", 6"
REFLEXITE V92 PRISMATIC REFLECTIVE TAPE
1" 2" 3" 4" 6"
Our Oralite 5900 High Intensity Type 4 Prismatic Tape (HIP) is 45% brighter than our standard high intensity glass bead tape at only a slightly higher price. This film utilizes air backed prismatic technology which produces more vivid colors. We carry white, red, yellow, orange, blue and green. This film has a tough glossy acrylic surface.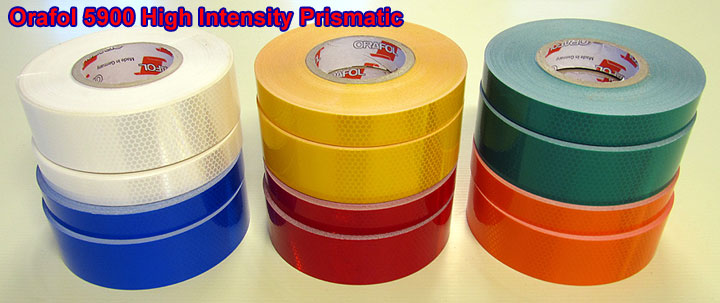 Click here for more pictures of this product.
Click here for a color and vividness comparison image.
Click here for a "Spec Sheet" on this product.

On this page we carry 1" x 30' or 150' rolls of HIGH INTENSITY PRISMATIC TYPE 4 reflective tape. This reflective film can be used to mark loading dock areas, bollards, poles, gates, barricades, non DOT regulated trailers and vehicles, etc... This material is normally found on brighter road signs and barricades but can be used in an unlimited variety of applications. High Intensity Prismatic Type 4 tape is 5-6 times brighter than standard engineer grade tape and exceeds all federal and state requirements for Type 4 tape. Micro Prisms are encapsulated in a honey comb design thus creating a much brighter and vivid retro reflective tape. This product carries a 10 year outdoor rating. It is easy to handle and resists chipping and cracking. In summary it is brighter, more vivid and tougher than our standard glass bead high intensity tape. You can click here to compare the color and vividness of this product to our glass bead high intensity.

We sell 1", 2" tape in 30' & 150' lengths and 4", 6" in 150 foot rolls via our online store. I can custom slit the material to any width you need. Email me or call me for a quote.

To install simply peel the backing off the tape and apply to a clean surface. Press on with a clean cloth or squeegee.

We stock ORALITE 5900 HIGH INTENSITY PRISMATIC TAPE in the following colors:

White, Red, Orange, Green, Blue and Yellow.
We carry this tape in
"1 inch"
,
"2 inch"
,
"4 inch"
,
"6 inch"
and rolls.
---
---
If you wish to order reflective tape rolls with a check or money order you can send payment along with a description of what you are ordering to

Reflective Inc.
1610 Guam Lane
Gulf Breeze, Fl 32563

---
About our products - Reflective tape strips light up at night when light reflects off of them. Our High Intensity grade reflective tape utilizes an encapsulated glass bead technology to reflect light. Glass beads are concentrated in a honey comb design. It is the same material you will see on brighter street signs and reflective road barrels. It is manufactured by Nikkalite Industries and has a 10 year outdoor rating. Reflective tape strips are also ideal for marking bollards, poles, light bases in parking lots / lot and parking garages / garage , golf course pins and flags, street signs, automatic gates and more. We carry 1" and 2" inch widths in red white and yellow and can do custom widths and lengths.

Our conspicuity tapes are manufactured by Reflexite and are about 5 times more reflective than standard reflective tapes. They are great for all DOT or non DOT regulated tractor trailer rigs. All of our reflective tape roll products are DOT and ASTM rated and approved in all 50 states.

We ship US Priority Mail for reflective tape rolls, dot conspicuity tape and UPS for large orders. Delivery time is approximately 3-5 days on most standard orders.

Return and Order Cancellation policy - 1" 2" reflective tape orders can be cancelled until they are shipped out. After that we do not accept returns unless there is a defect in the product that cannot be remedied. If an item is found to be defective it can be returned for a full refund of the purchase price.

Privacy Policy - all customer information is kept in strict confidence. We do not release any information on any of our customers to anyone without that customers consent. For our full privacy policy Click Here.

---