TYPE 3 - HIGH INTENSITY REFLECTIVE (GLASS BEAD TYPE)
1" 2" 4" 6" and 8"
TYPE 3 - FLEXIBLE HIGH INTENSITY (GLASS BEAD TYPE)
1" 2" 4" 6"
TYPE 4 - HIGH INTENSITY REFLECTIVE (PRISMATIC TYPE)
1", 2", 4", 6", and 8"
ORALITE V92 PRISMATIC REFLECTIVE TAPE
1" 2" 3" 4" 6"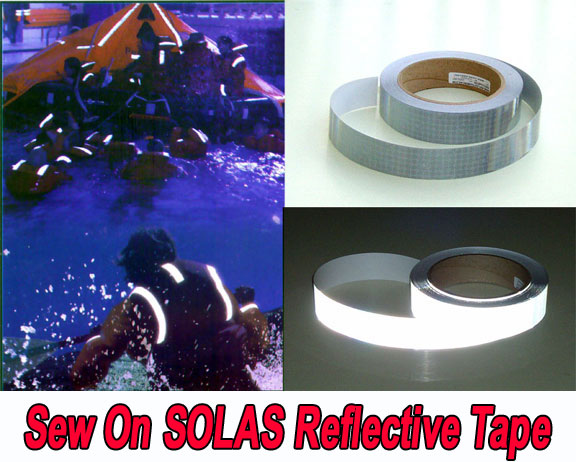 ORALITE (formerly Reflexite) Sew On SOLAS Coast Guard Approved Marine Tape is the toughest and brightest tape on the market. It has a fabric backing and is easily hand or machine sewn onto any garment. Once sewn on it is washable. (gentle cycle recommended) Our flexible SOLAS tape is specifically designed to increase the visibility of life jackets, survival suits, rain suits, back packs, jackets and a variety of other garments in marine and land environments. It is also very popular for motorcyclists and bicyclist due to its extreme reflectivity. ORALITE FD1403 is an 8 mil thick, flexible, UV stabilized, weather-resistant polymeric film with prismatic retroreflective elements. This material is designed to withstand the harsh marine environment and extreme cold. FD1403 is IMO Type I and II certified and meets USCG requirements for SOLAS (Safety of Life at Sea).

We carry the following "Sew On" ORALITE SOLAS tape.

White 1" x 30' Rolls - $39.99 per roll
White 2" x 30' Rolls - $54.99 per roll
White 3" x 30' Rolls - $74.99 per roll
White 4" x 30' Rolls - $99.99 per roll
White 1" x 150' Rolls - $119.99 per roll
White 2" x 150' Rolls - $179.99 per roll


Click here for a "Spec Sheet" on this product.

We also carry Self Adhesive SOLAS tape at the following link. CLICK HERE.

In addition, we carry an affordable "Flexible" High Intensity SOLAS alternative.
---

---
---
If you wish to order with a check or money order you can send payment along with a description of what you are ordering to

Reflective Inc.
1610 Guam Lane
Gulf Breeze, Fl 32563

---
FOR CUSTOM ORDERS PLEASE CONTACT ME BY e-mail OR CALL STEVE COLE AT
850-934-3157 AND I CAN QUOTE ANYTHING YOU NEED.
---
---
About our company - Reflective Inc. has been incorporated in the State of Florida since 1998. We are located in Gulf Breeze, Florida which is just east of Pensacola, Florida. We specialize in vinyl and reflective tapes. We are knowledgeable about all the products we sell and are available to answer any questions you may have.

About our products - Our reflective tape lights up at night when light reflects off of it. All of our DOT tapes bear the "DOT C2" designation on the tape. Our conspicuity tapes are manufactured by Orafol and are about 5 times more reflective than standard reflective tapes. They are great for all DOT or non DOT regulated tractor trailer rigs. All of our reflective tape roll products are DOT and ASTM rated and approved in all 50 states.

Shipment Method and estimated delivery time - We ship US Priority Mail for lighter shipments and UPS Ground for heavier packages. Delivery time is approximately 3-5 days.

Return and Order Cancellation policy - orders for DOT approved reflective conspicuity tape can be canceled until they are shipped out. After that we do not accept returns unless there is a defect in the product that cannot be remedied. If an item is found to be defective it can be returned for a full refund of the purchase price.

Privacy Policy - all customer information is kept in strict confidence. We do not release any information on any of our customers to anyone without that customers consent. For our full privacy policy Click Here.