HI INTENSITY TYPE III REFLECTIVE TAPE
1" 2" 4" 6"and 8"
FLEXIBLE HIGH INTENSITY REFLECTIVE TAPE
1" 2" 4" 6"
REFLEXITE V92 PRISMATIC REFLECTIVE TAPE
1" 2" 3" 4" 6"

SEE MORE PICTURES OF THIS PRODUCT AT THE BOTTOM OF THE PAGE
CLICK HERE TO SEE INSTALLATION PICTURES AND INSTRUCTIONS.
CLICK HERE FOR MORE INSTALLATION INSTRUCTIONS
CLICK HERE FOR PRODUCT PHOTOS
NOTE - IT IS VERY IMPORTANT THAT THIS TAPE BE PRESSED ONTO THE SURFACE WITH ENOUGH PRESSURE TO CONFORM IT 100% TO THE SURFACE. OTHERWISE THE TAPE WILL COME BACK UP.
Our 4" x 150' and 2" x 150'pavement marking tape rolls are designed to stripe asphalt & fully cured concrete surfaces, parking garages, warehouse floors, factory floors, roads and any other area where high visibility delineation is needed. Our tape is simple to install with no special equipment or contractor required. It is as thick as normal parking lot paint and has a durable, reflective surface. The tape's aggressive adhesive and conformable aluminum backing insure that when properly applied your reflective white or yellow lines will remain in place. Longevity depends on traffic flow and proper installation. The tape performs best on smooth surfaces where all of the tape can make contact with the surface. To conform the tape to the surface simply roll over it with a bouncy rubber tire like on a car or golf cart. Multiple passes may be necessity depending on how rough the surface is. Parking lots or warehouses with moderate to light traffic often get years of service out of the tape. The tape will conform to a moderately rough surface but performs best on smooth surfaces. For large projects we suggest you apply a roll first to determine whether this product will suit your needs. Our pavement marking tapes are not recommended for freshly sealcoated surfaces as the sealcoat will degrade the adhesive. Sand, dirt, oil, sealcoat or fresh curing paint can prevent this product from properly adhering. If you would like to test a piece of the tape I can mail a sample piece to you.

To install our pavement striping tape simply apply it to a clean, dry surface and press it on with a bouncy rubber tire like on a car or golf cart. The temperature should be in excess of 50 degrees. Dry, clean, sun warmed asphalt or cement is ideal. Proper adhesion is achieved by going over the tape with a heavy rubber roller or by using your vehicle tire. This conforms the aluminum base tape to the surface and creates a seal which keeps dirt or water from getting beneath the tape. Sometimes several passes are necessary to conform the tape to the surface. When using a vehicle be careful not to turn the steering wheel while on the fresh tape. Also, avoid applying the tape to damp asphalt or cement. It is best to apply when it has not rained in 48 hours . After application the tape is ready for traffic. Full curing occurs after about 48 hours and it is best if it does not rain during this time. For heavy traffic areas or where tires will be twisting on the striping try our "preformed thermoplastic striping" by clicking on the link to the left. It is always recommended that you test a piece on your surface first.

We carry the foil backed pavement tape in both WHITE and YELLOW in STANDARD and HEAVY DUTY grades. Our HEAVY DUTY grade is thicker and more reflective. It is for areas where greater reflectivity is needed like highways or firehouse bays.

Holds up to traffic driving straight over it. However, twisting tires can cause it to release. (priming with contact cement will enhance adhesion)

We also carry this product in 6", 8", 10" and 12" rolls. We carry the standard and heavy duty grades. The prices are $89.99/$99.99 for the 6" rolls, $119.99/$139.99 for the 8" rolls, $149.99/$169.99 for the 10" rolls, and $179.99/$199.99 for the 12" rolls. (call to order these sizes)
---
---
If you wish to order with a check or money order you can send payment along with a description of what you are ordering to

Reflective Store, Inc.
1610 Guam Lane
Gulf Breeze, Fl 32563
---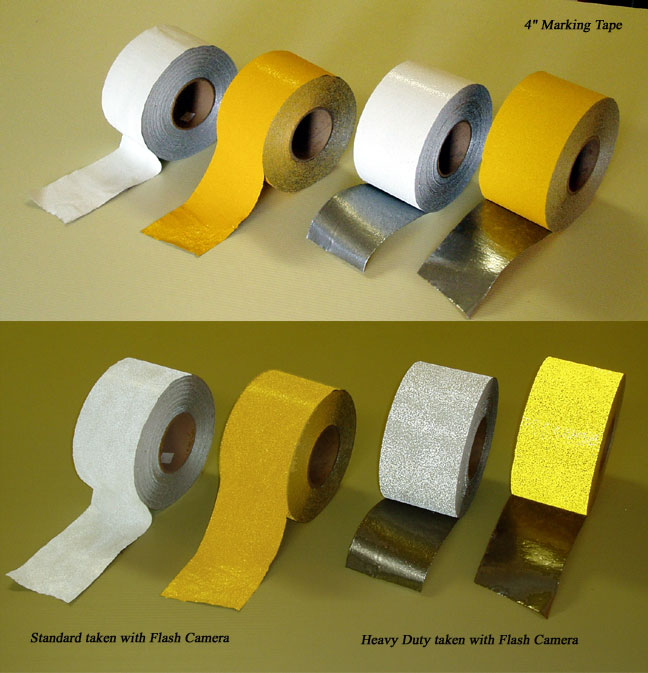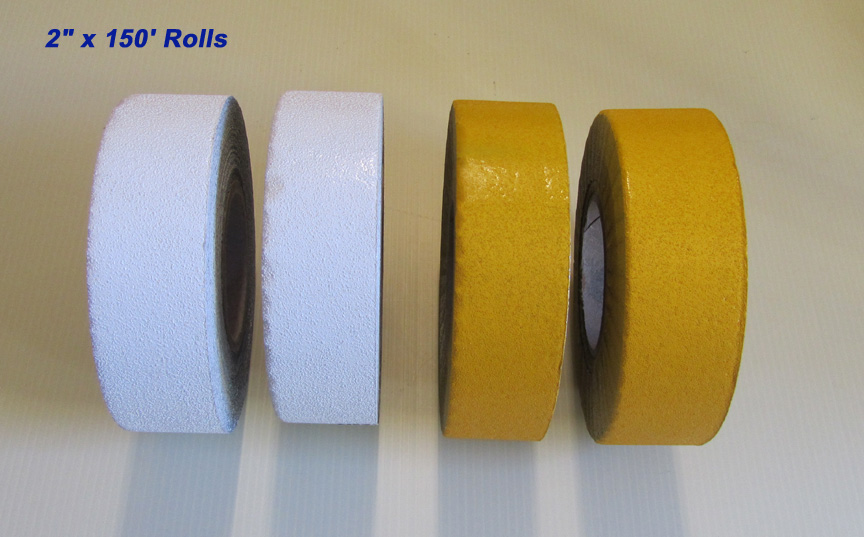 About our products - We carry the finest quality industrial/commercial reflective tapes, non skid tapes and pavement marking tapes available. Our parking lot striping tapes are manufactured using the highest quality raw materials that result in a durable application that is resistant to heavy traffic, water and grease. To install simply apply to a clean, dry, oil free surface and press the material firmly onto the surface. Our pavement marking tapes can be installed over most surfaces including asphalt and cement. For best results apply the tape to dry asphalt or cement when no rain is forecast. Press on using a roller or vehicle tire.

We ship US Priority Mail for pavement / floor marking tape rolls and UPS for large orders. Delivery time is approximately 3-5 days on most standard orders.

Return and Order Cancellation policy - 4" parking lot striping / pavement marking tape orders can be cancelled until they are shipped out. After that we do not accept returns unless there is a defect in the product that cannot be remedied. Problems related to application issues are not covered. Virtually all issues with foil backed pavement tape are associated with installation, atmospheric conditions, surface condition or with excessive wear issues and are not related to defects in the tape. For large jobs we recommend that you test out a roll of tape first to make sure it meets your needs and will perform to your satisfaction.

Privacy Policy - all customer information is kept in strict confidence. We do not release any information on any of our customers to anyone without that customers consent.

---