TYPE 3 - HIGH INTENSITY REFLECTIVE (GLASS BEAD TYPE)
1" 2" 4" 6" and 8"
TYPE 3 - FLEXIBLE HIGH INTENSITY (GLASS BEAD TYPE)
1" 2" 4" 6"
TYPE 4 - HIGH INTENSITY REFLECTIVE (PRISMATIC TYPE)
1", 2", 4", 6", and 8"
REFLEXITE V92 PRISMATIC REFLECTIVE TAPE
1" 2" 3" 4" 6"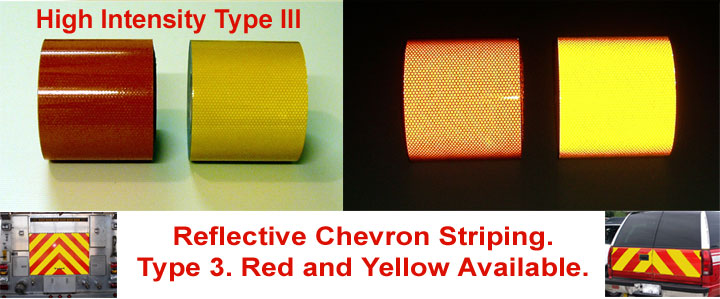 NFPA 1901 states that firetrucks and emergency vehicles shall have alternating yellow and red chevron striping applied to 50% of the rear of the vehicle. We carry reflective chevron striping in five types or grades of tape. Type 1 (bright), Type 3 (brighter),V92 Prismatic (even brighter) , V82 Type 5 (very bright) and Type 8 (brightest). All five are compliant with the NFPA 1901 standard. On this page we carry 6" rolls of "Type 3" tape.

The 6" material is for the downward slanting 45 degree chevrons. The stripes must alternate from red to yellow.

High Intensity grade Type 3 material exceeds the minimum standards for chevron striping established by the NFPA. It is characterized by a honeycomb pattern on the surface of the tape. It is flexible but will not stretch like the engineer grade. It carries a 10 year outdoor rating.


We carry the following Type 3 High Intensity Grade Chevron Striping. For other types of chevron striping click on the links to the left.

Solid Yellow or Red 6" x 30' Reflective Rolls - $89.99 per roll
Solid Yellow or Red 6" x 150' Reflective Rolls - $239.99 per roll
---
---
If you wish to order with a check or money order you can send payment along with a description of what you are ordering to

Reflective Inc.
1610 Guam Lane
Gulf Breeze, Fl 32563

---
FOR CUSTOM ORDERS PLEASE CONTACT ME BY E-MAIL OR CALL STEVE COLE AT
850-934-3157 AND I CAN QUOTE ANYTHING YOU NEED.
---